Embrace Worldwide Cryptocurrency
Payments

On Your Website
Enable online crypto payments, deposits, and donations from your customers directly on your website.

Via Email
Send Bitcoin invoices effortlessly, just like sending an email.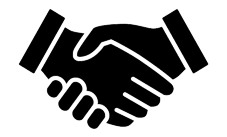 In-Person
Conveniently accept Bitcoin at your retail store or restaurant using your smartphone or tablet.
Featured On The Minnesota Influencer Podcast: 
We offer websites as a subscription service to small businesses. Website subscriptions come with a fully custom website which includes everything: hosting, security, unlimited changes, support, etc. Additionally, for our subscription customers, we also offer subscription upgrades which include SEO, Paid Advertising, Automation Integration, Job Postings, Ecommerce Solutions, and Online Strategy.